Advanced
Conversion Tracking

and

Conversion Attribution

Track clicks, conversions and revenue from all your online marketing in one place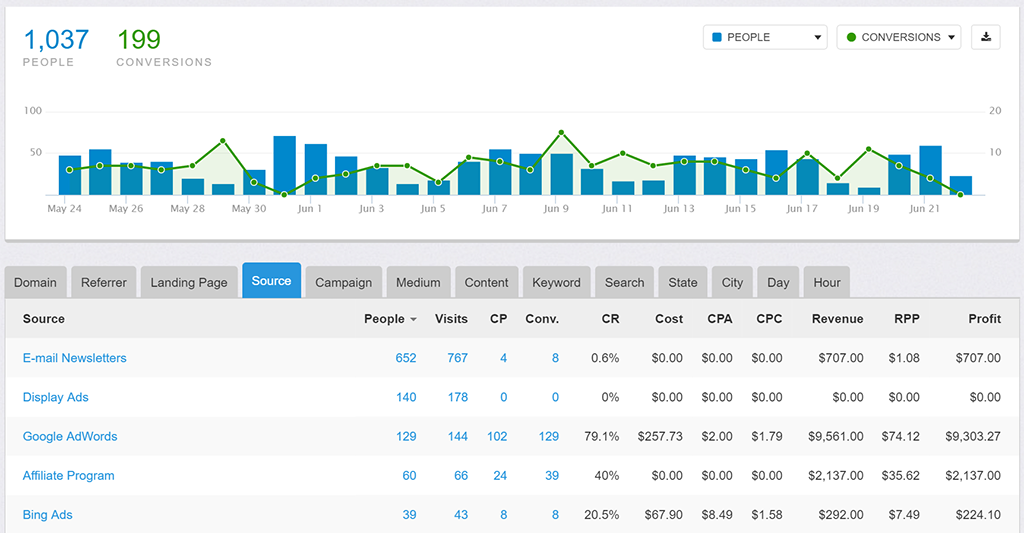 The Best Traffic Reports
Improvely shows you where your conversions and revenue are coming from so that you can spend more time on marketing that works, and stop wasting money on poorly converting traffic.
Segments and metrics you'll see out-of-the-box:
Channel
Referrer
Landing Page
Source
Campaign
Medium
Ad Content
Keyword
Search Phrase
Device Type
Country
City
Day of Week
People
Unique Visits
Conversions
Conversion Rate
Cost
CPA
CPC
Revenue
Average Goal Value
Customer Lifetime Value
Profit
RPP
ROI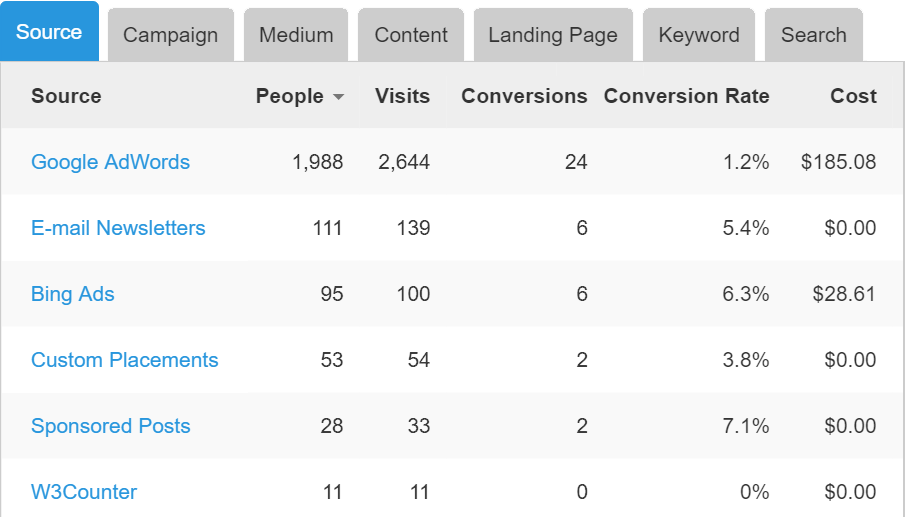 Custom-Built Funnel Reports
See the paths users take to conversion and identify the points where lost sales dropped off. Funnel reports show how users flow through multiple steps on your website. They're your power-house tool for identifying your best segments, and your biggest opportunities to improve.
No need to define funnels before collecting data
Track any number of custom conversion goals
Segment traffic to see who converts
Save multiple funnel reports, view any time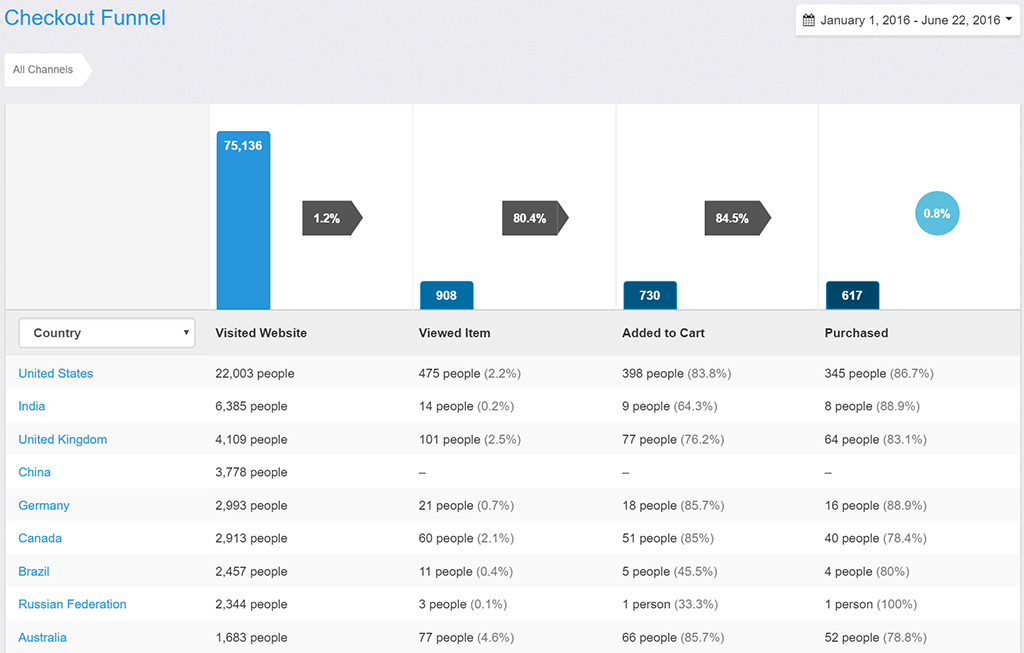 Customer Profiles
Improvely automatically creates a profile of each person on your site with all their past visits and conversions. You'll learn their time to conversion, lifetime value, location and more. Plus, you'll see first-hand how different channels contribute to each conversion on your site.
Identify your best customers to find more of them
Track repeat visits over weeks or even months
Enables advanced conversion attribution models
First-click, last-click, or something in-between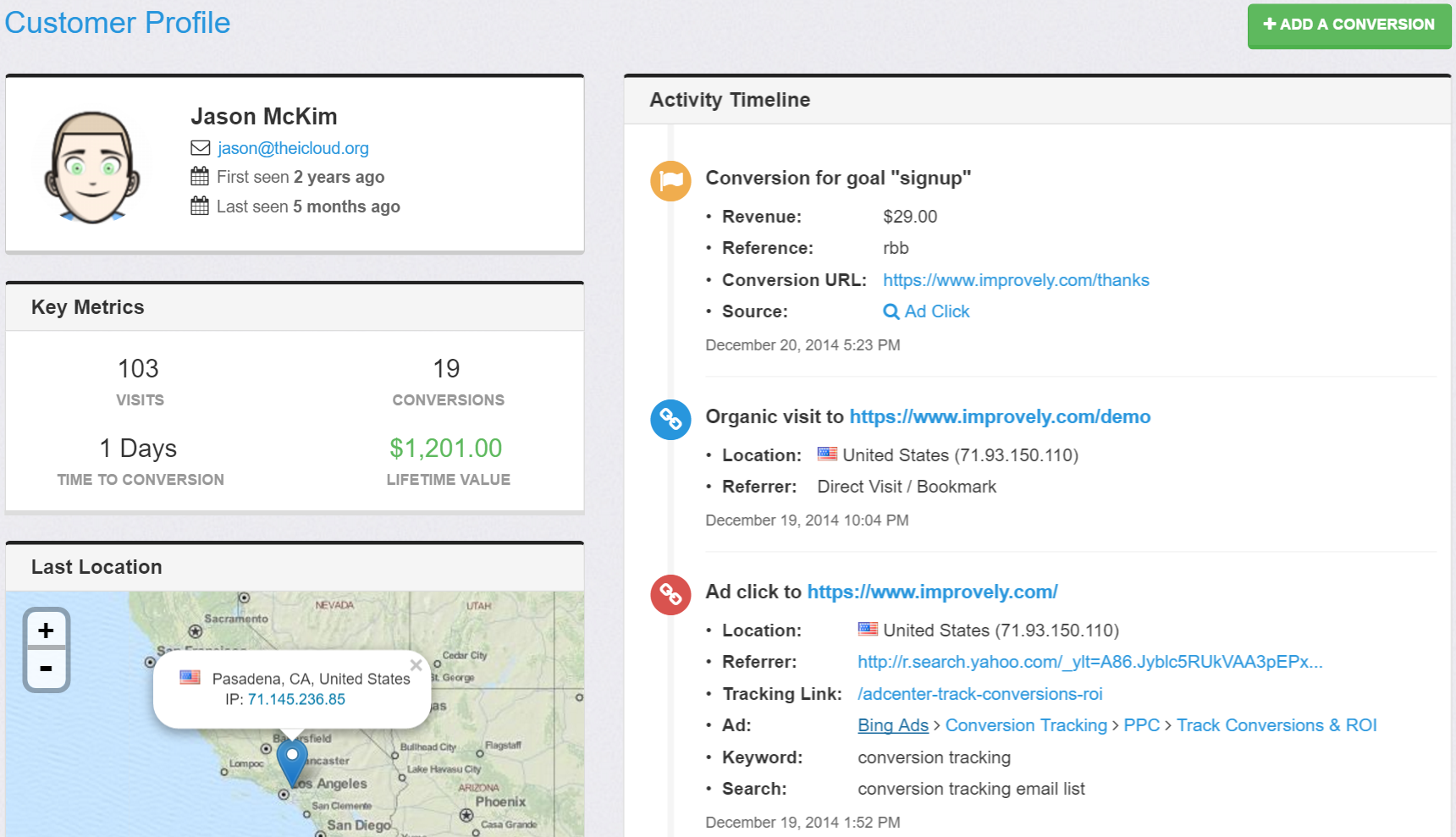 And Much More
A/B Split Testing tools built-in
Click fraud monitoring of all your ad traffic
Dashboards show your key metrics at-a-glance
All reports update in real-time as new events occur
Export reports or raw data to Excel CSV
Import reports from Google, Bing & more
Instant e-mail alerts of new conversions
Automatic duplicate detection and IP exclusions
View IP addresses, device info, referrers and more
Developer API for custom tracking