---
This first major update of the new year brings you several highly-requested features including an IP ignore list, a better way to identify your most valuable customers, and new ways to organize your reports. Read on to see the changes now available in your account —
New

IP Ignore List

Don't want your own visits counted in your reports? You can use the IP Ignore List to have Improvely filter out your own activity. Just add your IP, and the IP address of anyone else you'd like to ignore, to the new area on your Project Settings page.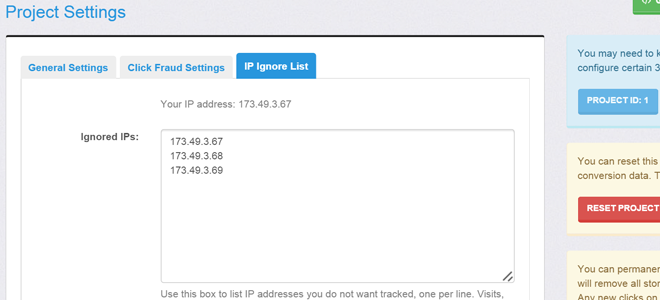 New

People Explorer

Improvely's helping you get personal with the people who love your website. You'll find a new People Explorer link in the Tools menu where you can sort and search through the profiles of every person who's ever visited your site. You can use the Explorer to find your most active users, your most valuable customers, or search through activity by IP address, e-mail address and more.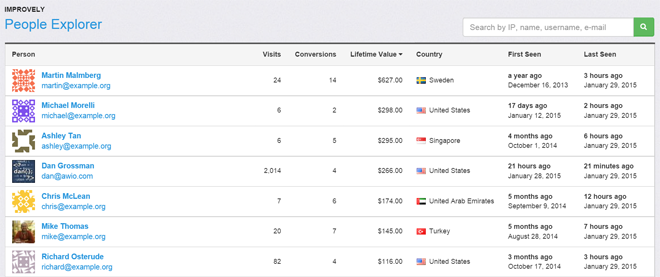 This is just the first of several updates we'll be making this year to help you learn more about your customers. Keep an eye out for an updated visitor profile layout soon!
New

API Access, Managing Many Projects and New Currencies

We also recently opened up the Server-Side HTTP API for Improvely for testing by all accounts. You can use this API to programmatically create tracking links, record followup conversions such as recurring bills, and manage projects and users. This should help you to integrate Improvely better into your software workflows. The API is continually being improved and new endpoints are planned — your feedback is welcomed!

Does your agency manage lots of projects? Having a hard time finding the right one to work on in a long list at login? You can now re-organize your project list by dragging and dropping them into any order you'd like. Just click on the name of the project and move it up or down the list. Each user in your organization can organize their own list, and your changes will be reflected in the project selection dropdown in the menus as well.

Finally, we've added several new requested currencies for our reports, including the Kroner. If your clients do business in these currencies, you can now choose them from the Project Settings page.
---